VladTV
Staff WriterMSNBC✔@MSNBC
"Somebody has to do this."

A peaceful protester is arrested outside the location President Trump's rally will be held in Tulsa, Oklahoma, on Saturday.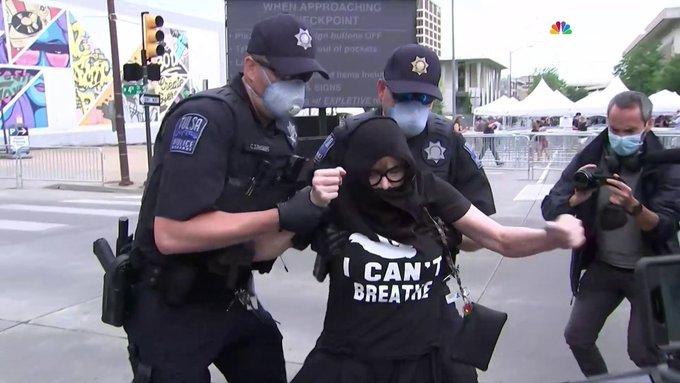 16.9KTwitter Ads info and privacy13.8K people are talking about this
According to reports, a woman in Tulsa, Oklahoma, was arrested during a rally Donald Trump was holding. Trump initially planned on holding the rally on Juneteenth but faced much backlash. Despite pushing it back, protesters still showed up at the rally. One woman in particular named Sheila Buck got into the rally and protested by sitting on the ground while wearing an "I Can't Breathe" t-shirt. From there, Buck had an eight-minute standoff with the police that led to her getting dragged away. The Tulsa Police's response to Buck is a response opposite to the one they had for George Floyd, who was subjected to a knee in the neck for almost nine minutes.
Tulsa Police issued a statement on the matter, saying, "This morning at 11:30 am Tulsa Police were requested by Trump Campaign Staff to remove an individual from the secure area of the rally." It was noted they asked Buck to leave several times and that she was "escorted out of the area and transported to booking for obstruction."
This Post Has Been Viewed 42 Times