posted by Peyton Blakemore – Jan 29, 2020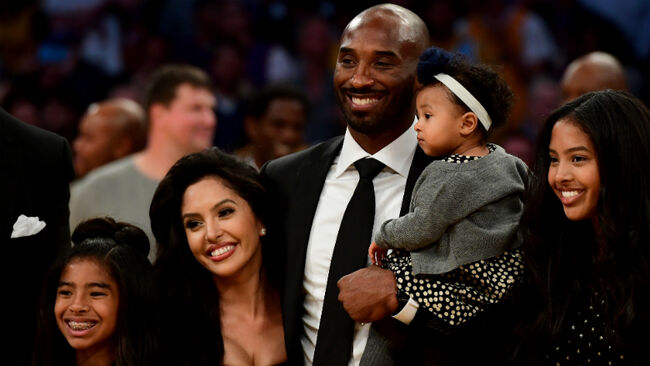 Vanessa Bryant has updated her Instagram profile picture to one of her husband, Kobe Bryant and 13-year-old daughter, Gianna "Gigi" Bryant — three days after they were both tragically killed in a helicopter crash.
Fans noticed that Vanessa changed her Instagram photo on Wednesday (January 29). In the picture, which was taken at the 2016 NBA All-Star Game in Toronto, Gigi is shown reaching up to embrace her dad.
Vanessa also changed her previously private account to public on Wednesday. She has yet to release a statement about the death of her husband and daughter.
Kobe and Gigi were among the nine people killed in a tragic helicopter crash on Sunday (January 26) in Calabasas, CA. While the crash remains under investigation, early reports suggest that heavy fog was possibly to blame for the accident.
The bodies of the nine victims have been recovered, however, investigators are still working to identify the victims through "the use of fingerprints." So far they've identified Kobe, John Altobelli, Sarah Chester, and the pilot Ara Zobayan. The Coroner's Office is working to identify the bodies of the remaining five victims: Gianna, Payton Chester, Christina Mauser, Keri Altobelli and Alyssa Altobelli.

On Tuesday (January 28), the National Transportation Safety Board revealed that the helicopter carrying Kobe, Gigi, and the seven other passengers was not equipped with a terrain alarm system that could have warned the pilot he was approaching a hillside.
"So we know that this was a high-energy impact crash, and the helicopter was in a descending left bank," NTSB investigator Jennifer Homendy said at a press conference. She added that the helicopter was at 2,300 feet when it lost communication with air traffic controllers. The helicopter reportedly plunged at a rate of 2,000 feet per minute before crashing into a mountain in Calabasas.
NTSB officials believe a terrain awareness and warning system (TAWS) would have alerted the pilot of the terrain around him, especially since the crash occurred about 20 to 30 feet above an outcropping of the hill.
During Tuesday's press conference, Homendy confirmed that the NTSB requested that the Federal Aviation Administration (FAA) require TAWS on all helicopters that seated six or more passengers after a crash in Galveston, Texas back in 2004 killed 10 people. However, the FAA did not implement the recommendation and the proposal was closed, People reports. Homendy said the FAA has still "failed to act" on the advice.
Photo: Getty Images
This Post Has Been Viewed 139 Times