VladTV
Staff WriterPM Breaking News@PMBreakingNews
Breaking: Massive protests in Minneapolis, Minnesota, in response to the killing of George Floyd, an unarmed black man, by Minneapolis police yesterday.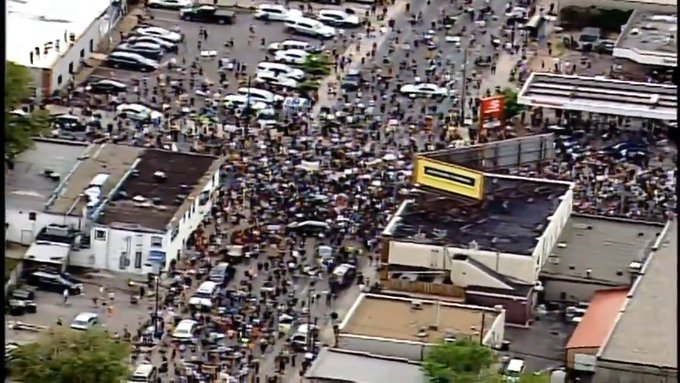 957Twitter Ads info and privacy699 people are talking about this
Update 05/26/2020 9:08pm:
The death of George Floyd at the hand or knee of Minneapolis Police was eerily similar to the death of Eric Gardner. Both black men were unarmed and neither was suspected of a violent crime during their fatal encounters with law enforcement. To further demonstrate the similarities, video captures Floyd pleading for his life and telling the cop he couldn't breathe. ADVERTISING
As the video of Floyd being suffocated made its rounds through social and mainstream media, the outrage in Minneapolis has boiled over into thousands of people hitting the streets calling for justice.
---
Original 05/26/2020 9:53am:
The FBI is investigating the death of an unidentified Black man in Minneapolis after a police officer was seen kneeling on his neck while the man repeatedly stated that he couldn't breathe.
The incident happened on Monday (May 25) when police responded to calls of a forgery in progress, and after locating a man who they believed to be intoxicated, they approached him at his vehicle. Police said the man "physically resisted officers," with a spokesperson from the police station addressing further details of the situation in a news briefing. The statement reads: "Officers were able to get the suspect into handcuffs and realized that the suspect was suffering a medical distress. Officers called for an ambulance. He was transported to Hennepin County Medical Center where he died a short time later."
In the video, bystanders can be heard asking police if they killed the man after he appeared motionless on the road. Later, the unconscious man was loaded onto a stretcher and into an ambulance. Darnella Frazier recorded the video that was broadcast on Facebook, and she stated on her page, "The police killed him, bro, right in front of everybody. He was crying, telling them like, 'I can't breathe,' and everything. They killed this man."
This Post Has Been Viewed 27 Times