posted by Paris Close – Mar 8, 20204.6K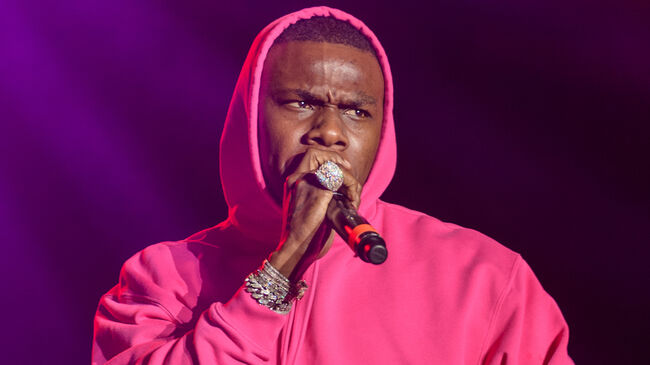 DaBaby slapped a fan in her face over the weekend.
Shocking video footage has surfaced of the "Suge" rapper let loose on a woman while promoting his music at Whiskey North in Tampa as part of his "Up Close N Personal" tour. From the clip, posted Sunday morning (March 8) by DJ Akademiks on Twitter, DaBaby appears to be walking through the crowd with his entourage when the woman in question waves her phone a little too close for comfort, prompting the artist to smack her across the face, before being booed out of the venue.
According to TMZ, DaBaby and his crew left the spot shortly without performing. Cops also responded to a 911 assault call but no arrests were made.
Fans have been outraged with DaBaby's behavior ever since the clip surfaced on Twitter. "When you slapped that woman, I felt it. It woke me out of my sleep. Willow came into my room because she felt it too. You slapped us. We said 'not Da Baby,'" one user tweeted.
"So I HEAR Da Baby Slapped Her Cause She Put The Flash In His Eye… If It's True I Really Can't F—k Wit This B—h A— N—a Man," another sounded off.
See the clip below.
Clearer angle of the female fan hitting Da Baby in the face with her cell phone. He instinctively punches her in the face. Was he wrong or na?
13.9K6:36 AM – Mar 8, 2020Twitter Ads info and privacy3,989 people are talking about this
VideoMixtape.com@VideoMixtape_
Da Baby Offers $10K For Best Video Of Lady He Slapped Hitting Him In The Eye.4911:25 AM – Mar 8, 2020Twitter Ads info and privacy33 people are talking about this
Since then, DaBaby has taken to social media to address the altercation, claiming the woman "hit me in my eye with her phone." Now he's offering $10,000 to anyone with "a good angle" of the incident so his "lawyer can get active."
Even so, this isn't the first time DaBaby has been caught putting his hands on someone. Earlier this year, an incriminating video from an incident that transpired in December 2019 showed the musician shoving around a hotel staff. Additionally, he kicked off the New Year with a battery arrest in connection to a robbery investigation.
Photo: Getty Images
This Post Has Been Viewed 63 Times