By Peyton BlakemoreApr 6, 2020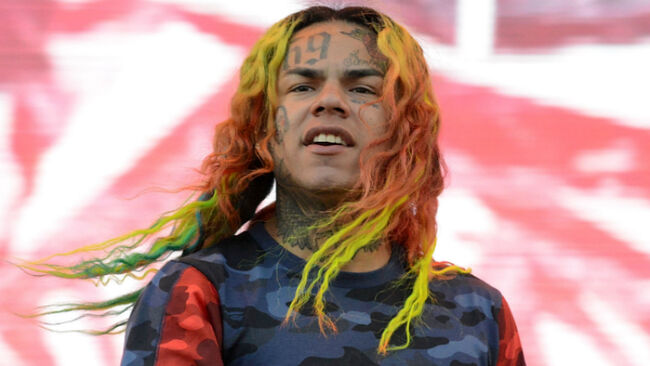 Tekashi 6ix9ineis already back to his old ways.
Days after being released from prison early following fears of possibly contracting the coronavirus, the 23-year-old rapper's Instagram account appeared to troll the Los Angeles mayor on a post about the city official "Offering 'Rewards' For Snitching On Businesses Violating The City's Stay-At-Home Order."
"Coming to the rescue," 6ix9ine responded, seemingly joking about his own snitching. As fans know, 6ix9ine cooperated with the federal government to get a reduced sentenced after facing 47 years to life behind bars for a number of crimes.
6ix9ine's social media return came just before his attorney Lance Lazzaro told TMZ that while his client has no restrictions regarding his use of social media, 69's probation officer will be monitoring everything Tekashi posts. He also told the outlet that 6ix9ine will not post anything inflammatory and will use his discretion and common sense when he uses social media.
On Thursday (April 2), a judge signed off on the rapper's request to get out of jail due to 6ix9ine being at high risk of serious illness if he were to contract the coronavirus, TMZ reported.
The "FEFE" rapper was granted a compassionate release from the New York facility where he was being held, meaning, instead of serving the rest of his 2-year sentence behind bars, he's doing it at home.
Tekashi, who was set to be released from prison on August 2, is now on a supervised release, TMZ reported. Adding, "during his first months of home incarceration, he'll have a GPS monitor and must remain at an address approved by his probation officer. He can only leave if he needs to seek necessary medical treatment or visit his attorney and he must get pre-approval from the Probation Department."
This Post Has Been Viewed 36 Times